"The bad news is time flies. The good news is you're the pilot." – Michael Altshuler.
My 4 ½ year journey comes to an end, but it felt like both Babbel & I experienced a decade-worth of change, advancement and growth. I wanted to take a moment to thank every Babbelonian that made it so enriching. And to my family for the leap of faith to change countries again. ✈️
People 🤘🏼
When asked about the one thing I'll miss: like countless Babbelonians, I pointed to this. You onboarded me to a new culture. You live & breathe our purpose to create mutual understanding – for us and our learners. You are what makes Babbel unique. There's so many of you to name and I fear missing one out. But you know who you are! Seeing your goodbye messages come far and wide was heart-warming. Sorry for being speechless on the farewell call. Thanks and you rock!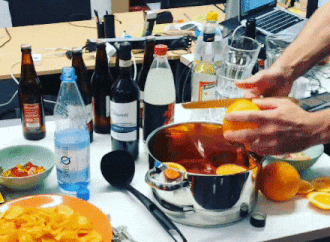 Babbelonians helped me blend in a new culture; to learn and reflect on my values and identity.
Product & Leadership 🎯
When I took over leadership of the PM team early 2018 and was asked to double it, I was still learning to lead at scale. Not every strategy, organisation and process change was straight-forward – especially restructuring into tribes. I want to thank all the PMs for their trust, commitment patience while I figured it. Looking back at how far we've come makes me proud: from how & how many decisions we make using data, to how consistent we've become at driving outcomes; from lateral transitions to well-deserved promotions. Leading designers and product marketeers was a step change; thanks for the smooth transition. You've all been tremendous partners!
Scale-up to IPO-ready 🚀
I want to thank all Impressionists (members of our revenue & growth tribe) for your drive to hack, clean-up and scale. You should be proud of launching free-trial, a platform for new subscriptions like multi-user & lifetime plans, a platform for promotions and iterating on content. Your contribution and strong collaboration with Marketing, CS, etc, chipped strongly into our user & revenue growth.
I owe a great deal to the inspiring leaders that challenged, inspired, and guided me through it – Martin Keuter (ex-COO), Geoff Stead (CPO) and Julie Hansen (CRO & CEO, US). I learned a lot, but most of all, you helped sharpen my strategic thinking, organisation development and change management skills.
Continue reading

Goodbye Babbel. And Thank you, Babbelonians!