"We have to continually be jumping off cliffs and developing our wings on the way down." ― Kurt Vonnegut
After two phenomenal years of launching apps at the Landmark Group's Web Team, I've decided to move on. But before that, I wanted to thank the incredible people and fabulous products that made this journey truly remarkable. The Web Team, January 2017
My B2C Debut
Firstly, a big thanks to Arjit, Ziyaad, Daniel and Savitar for sensing potential in my B2B Product skills and entrusting me to lead consumer products. Also Derrick, for offering a wide range of responsibilities ranging from E-commerce to Loyalty strategy, and launching features and new territories. Thanks for believing in me and I hope I delivered every project to your expectation. Savitar's passion, humility and attention-to-detail will forever inspire me.

Customer is King
Being part of loyalty programs is one thing. But leading the digital roadmap for a loyalty program with 15 million customers is another. And it wouldn't have been possible without the Shukran Marketing, Operations, CRM, Finance, Territory teams and meticulous guidance from the Leadership team that we won prestigious awards for our iOS & Android apps that reward Landmark customers in over 10 countries in the Middle East. Working with the Landmark Rewards team in India exposed me to the state of loyalty in the sub-continent and honed my project management skills. You were all very realistic and reasonable customers.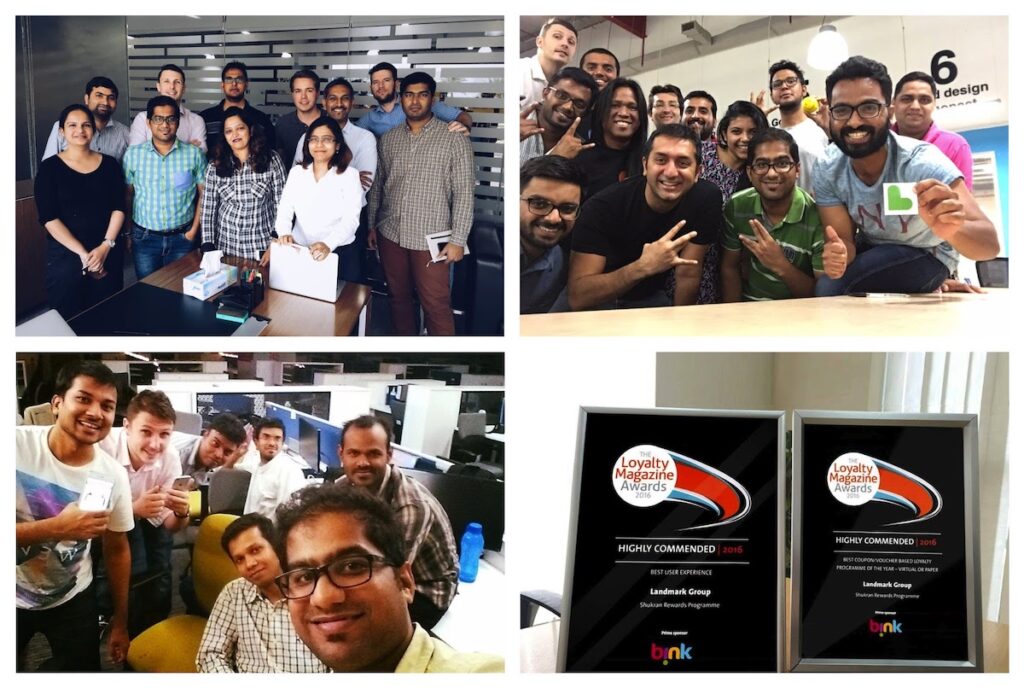 All Roads lead to Tech
All along I worked with some of the best minds in Design & Tech, in every possible setup: full-stack squads with members spread across Dubai and Bangalore, development partners in Mumbai & Chennai, and design partners in the US & Romania. All of you – not only did you hit every possible deadline, but also helped work around differences in timezone, culture and weekdays – Thanks! I'd also like to extend my gratitude to my colleagues in Marketing, Merchandising, Operations, Customer Support, HR, Admin, Finance, India and Saudi Arabia teams without whom no project could have been delivered on-time, on-cost and on-quality.
And finally, my very own Product Management team. You were such a great mix of people from diverse backgrounds and there was so much to learn from each one of you. I will forever cherish the camaraderie and openness we shared within the group, and miss our parties!
I'm going to miss working at the Landmark Tower. I'm going to miss @Workplace, our standing desks and our annual boat party. And most of all, each one of you lovely souls! I hope the team gets stronger together, and I wish well for everyone. Thanks for everything and stay in touch.
PS: Keeping up with the tradition of a Goodbye post, this time also it served as my goodbye email. I was sure the close, curious & concerned would follow the link. Thanks for stopping by.