This morning all forms of media were talking about the inauguration of the gleaming new Bandra-Worli sea-link by UPA chairperson Sonia Gandhi. Apart from breaking news on TV & front-pages of print media, the news board at Yashodham High School, where I had been to submit Chibu's FYJC admission form, also followed the event. Leaving aside details of the technical feat, the mighty cost involved and benefits to society, they were all debating the Naamkaran. It is believed that NCP chief Sharad Pawar, a Maharashtrian by birth, was the one who suggested it be named after former PM & Sonia's husband late Rajiv Gandhi. And to cut a long story short, it was opposed by many; the Shivsena wanted it to be named after the Maharashtrian freedom fighter Veer Savarkar.
"What's in a name? That which we call a rose
By any other name would smell as sweet."
Romeo and Juliet (II, ii, 1-2)
The first thing that came to my mind was this quote from Romeo & Juliet. What are we fighting over? A decade ago, when Bombay airport & Victoria Terminus station were named after Chhatrapati Shivaji Maharaj, the whole country ridiculed the Sena-backed move; particularly through email messages like this one. Aren't there over a dozen important places already named after Rajiv Gandhi? The state-of-the-art Hyderabad Airport is a recent example. With a majority win, the UPA is intrepidly dedicating national property to the Gandhi family. Not to forget, Mayavati, competing at the state-level, is believed to have spent over 1000 crores installing her own statues back home.
But if at all we are to fight over names, did anybody give a thought to calling it 'Martyr Tukaram Ombe Sea-link'? If you aren't aware yet, this was the courageux assistant sub-inspector who gave way to a hail of bullets in his chest just to ensure Ajmal Kasab was captured alive. Imagine the kind of a morale it would set into the police force, especially for the staff whose work is hardly noted. Several memorials have been dedicated to Karkare & Salaskar of which I know of one public garden on JVLR named Veer Salaskar Udhyan. Would this have been too big for a asst. sub-inspector?
And what a national shame: eight months down the line, our law has still not been able to give justice to Ombe, fellow policemen and hundreds of civilians who lost their lives in the November 27 terrorist attacks in Mumbai. In fact, I was amazed to know that all of a sudden every one is now calling the 'Kasab' I knew, 'Kasav'! Wikipedia says that his name has been reported in 11 ways by the media.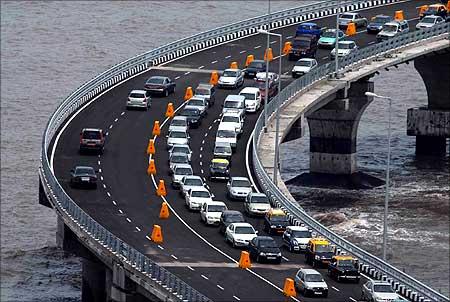 Getting back to where we started, the Bandra-Worli sealink was believed to reduce travel time from 60-90 mins to 6-8 mins. But feedback from commuters on the very first day reveals that it took them 40-70 mins in slow-moving traffic due to congestion at either ends; specifically, on account of a sharp turn and a divider at the Worli end. As against this, people who took the old road made it in under 20 mins. Another Murphy?